Jaw-dropping turquoise waters, white sand that's akin to powdered sugar, and delicious fresh seafood are just part of Cancun's allure. Direct flights from major cities, a plethora of hotels — from romantic adults-only boutiques to kid-friendly all-inclusive resorts — and a range of restaurants at various price points mean travelers can visit the popular city both easily and affordably. Whether you're organizing your honeymoon, a family reunion, or a girlfriend getaway, here are 11 things you need to know before visiting Cancun.
1. Cancun is extremely tourist-friendly.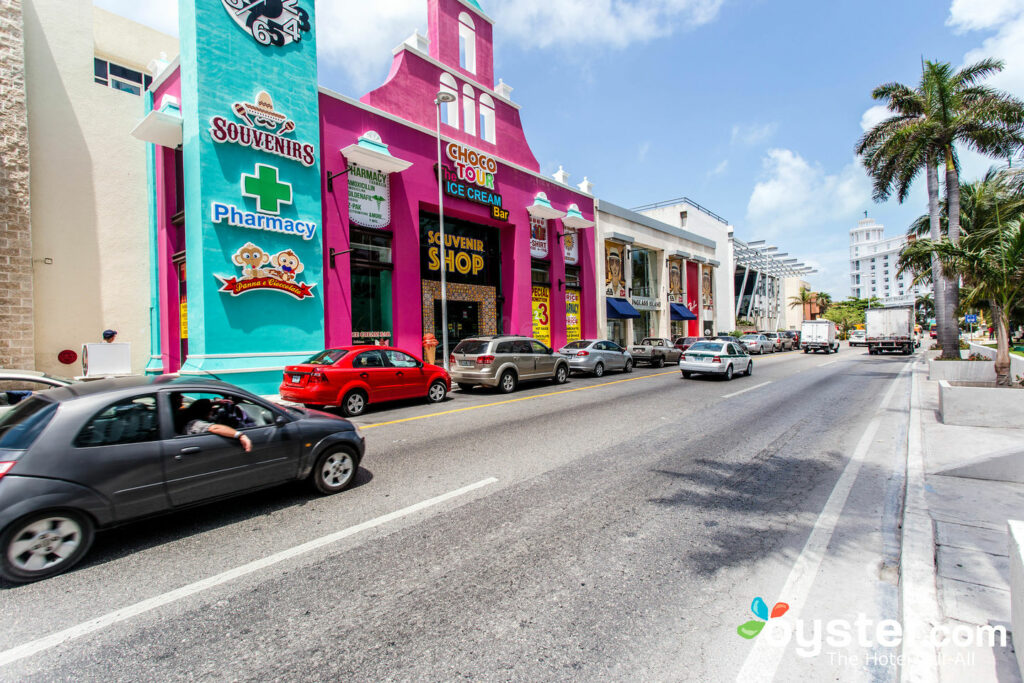 International visitors need not worry about conversing with locals in Cancun, having access to their home comforts such as specific snacks or medicines, and overall ease of travel. The city saw nearly six million international travelers in 2016, and that number is expected to rise, so it's no surprise that Cancun largely caters to English-speaking visitors. English is spoken by most locals and all hotel staff. Plus, chain restaurants and shops, like Ruth's Chris Steak House and Gucci, line the Hotel Zone. It's a downside for many, but some travelers love the easiness of Cancun.
2. Cancun is safe.
Is Cancun safe? Certain areas of Mexico have long held a reputation for being unsafe, and while resort areas have largely avoided violence, Cancun had a rise in murders in 2017. Although these were gang-related occurrences, the U.S. Department of State still issued a Level 2 travel warning, meaning travelers should exercise increased caution. The warning states that "While most of these homicides appeared to be targeted, criminal organization assassinations, turf battles between criminal groups have resulted in violent crime in areas frequented by U.S. citizens."
So long as tourists stick to popular areas and keep their wits about them, as with any location, Cancun feels extremely safe. On a recent trip to Cancun in May, we walked along the main Hotel Zone avenue and took a cab to Playa del Carmen and never felt unsafe. Other travelers we spoke with reiterated how they felt completely safe, particularly while at secure resorts. It should be noted that other countries with a Level 2 warning include Italy, Germany, and the United Kingdom.
3. It's not all about partying in Cancun.
Cancun has an image of rowdy spring breakers and bachelor/bachelorette groups indulging in all-inclusive drinks at the swim-up bar before heading to nightlife spots such as Senor Frog's or Coco Bongo. Sure, there are certainly booze-loving travelers looking to party it up in Cancun, but there are also honeymooners, families with young children, and wedding parties who are more interested in low-key beach time than having a margarita at all times. Fortunately, there are dozens of hotels geared toward each type of traveler, so tourists can create a vacation suited to their taste.
4. Local culture is missing from the Hotel Zone.
The chain outlets and large English-speaking resorts in the Hotel Zone do such a good job of making travelers feel at home that the area is largely absent of local culture. Colorful signage, Caribbean views, and some local eateries serving regional and seafood dishes provide enough Mexican charm for some travelers, but those wanting a more authentic experience should stick to downtown Cancun or less-developed destinations in the Riviera Maya such as Akumal or Puerto Morelos.
5. Caribbean beaches have a strong undertow.
Cancun has some of the most breathtaking beaches around — large expanses of powdery white sand abutting turquoise waters. After bathing in the hot Mexican sun for a bit, visitors will likely want to cool off with a dip in the ocean, but caution is needed due to the strong undertow and rough surf. Mexico has a flag system to alert swimmers on water conditions: green signifies the water is safe for swimming; yellow means use caution; red conveys dangerous conditions; and black means do not swim. Flags were red during our visit in May, and people stuck fairly close to the shore, especially as there are generally no lifeguards on the beach.
6. Don't drink the tap water in Cancun.
Most tourists know this rule, but it's a big one: Do not drink the tap water. Tap water is not safe to drink in Cancun, as it's rampant with parasites and potentially deadly bacteria, and non-locals are extremely susceptible to getting sick from non-filtered water. To avoid getting sick on vacation, stick to filtered bottled water — free at most resorts — and decline drinks with ice if you're unable to confirm whether it has been filtered. Tip: Ice that's in the shape of a cylinder with a hole in the center is purchased from a purified ice factory. For extra precaution, use bottled water for brushing teeth. Also be wary of raw food such as salads and fruit, as these are more likely to contain bacteria.
7. Cancun hurricane season runs from August through November.
Cancun and Mexico's hurricane season runs from June through November, with the highest risk of strong storms occurring from August through October. For example, Category-4 Hurricane Odile hit Los Cabos in late September 2014, while Hurricane Patricia caused similar destruction in Puerto Vallarta in October 2015. Because these months often mean fewer travelers and lower rates, tourists may be tempted to visit during this time. Most weather experts recommend purchasing travel insurance if you plan on visiting during hurricane season. The last two hurricanes Cancun experienced were Gilbert in September 1988 and Wilma in October 2005.
8. Day trips from Cancun put cultural sights within easy reach.
Although the Hotel Zone lacks authenticity, a good dose of local culture can be found in downtown Cancun and in nearby spots suitable for day trips. For colorful handicrafts (silver jewelry, ceramic bowls, and embroidered dresses, to name a few), head to downtown's Mercado 28 or Mercado 23, both excellent flea markets with local vendors. Additionally, numerous day trips from Cancun are available for travelers who want to explore Mayan ruins, refreshing swimming holes or "cenotes," and eco parks such as Xcaret in Playa del Carmen. Chichen Itza ruins are very popular (read: commercialized) and located a two-and-a-half-hour drive inland, while the smaller ruins of Tulum are seaside. Several "cenotes" fill the area, and frequented options include Ik Kil (close to Chichen Itza) and Selvatica, located within an hour's drive of Cancun.
9. Cancun has hotels for every budget.
Hotels run the gamut here, so budget resort-seekers and well-heeled travelers looking to splurge can all find a place to suit their needs. Most value properties and hostels are located in downtown Cancun, while luxury options are largely found in the Hotel Zone or nearby areas such as Playa Mujeres. For an affordable spot, consider the adults-only Oh! The Urban Oasis in downtown or Hostal Mayapan in the Hotel Zone. Good, moderately priced hotels include the all-inclusive Panama Jack Resorts and Westin Resort & Spa, both of which are located along the beach in the Hotel Zone and suitable for families and couples. For over-the-top luxury, Beloved Playa Mujeres and Le Blanc Spa Resort are oceanfront stunners that deliver with stellar rooms and numerous high-end amenities.
10. U.S. dollars are widely accepted, but stick to pesos.
Most restaurants, hotels, and cabs in Cancun accept U.S. dollars, but to avoid an uptick in price, stick to paying in pesos. Plus, you'll be getting change in pesos, so it's best to stick to one currency. Converting dollars to pesos at a bank before your trip will give you the best exchange rate, but if you wait until you're in Cancun, get pesos from an ATM. Exchanging money from a hotel or at an airport vendor often means a worse exchange rate. Credit cards are accepted nearly everywhere except for street vendors and cabs, but you may be paying a foreign transaction fee. Also be sure to alert your bank that you'll be traveling before your trip to avoid having your card frozen. It's also wise to bring cash in the event something happens to your debit or credit card.
11. Taxis in Cancun are pricey, and buses are cheap.
Taxis in Cancun aren't metered and they're expensive, but they do all follow a set price, such as 900 pesos ($45) from Playa del Carmen to Cancun's Hotel Zone. Taxis from Cancun International Airport to the Hotel Zone cost 450 pesos, or $26 if you're paying in U.S. dollars. Because taxis are so expensive, many travelers opt for local bus transportation, which is reliable, frequent, and inexpensive. Hotels can help travelers know where to get picked up and dropped off, and it typically costs 12 pesos (under $1) to ride between the Hotel Zone and downtown Cancun. After having been banned, the ride-share service Uber is now active in Cancun.